CITT News
CITT, GO-Biz, POLB, and CalSTA Lead Efforts to Combat Supply Chain Disruptions: Part I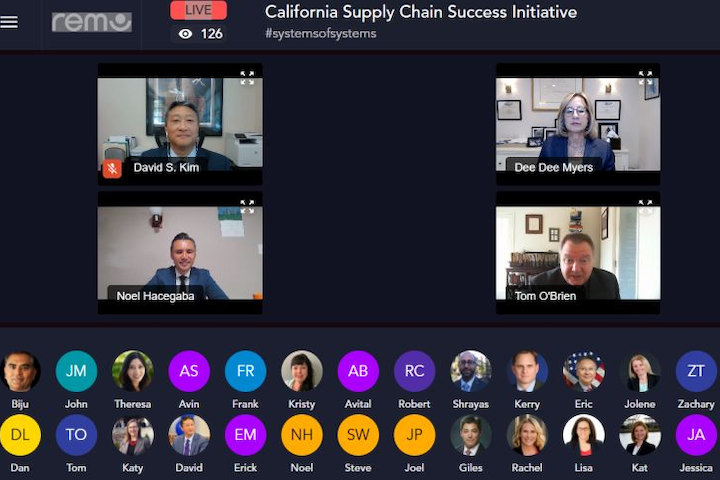 This article is Part I in a two-part series covering the California Supply Chain SUCCESS Initiative.
In the wake of the ongoing COVID-19 pandemic, supply chain disruptions have become increasingly visible to the public. As consumers face extended delays, fluctuating prices, and unpredictable availability, more and more customers experience the impact of disruptions first-hand. Rapid changes in demand, fueled in part by panic buying and the shift to online shopping, still strain many of the supply chain's links. However, although the global health crisis undoubtedly exacerbated these strains, the pandemic merely exposed pre-existing problems rather than creating new ones. Issues such as capacity constraints, changing consumer demand, outdated infrastructure, worker shortages, and equipment shortages have left the supply chain vulnerable. California is home to the two busiest maritime ports in the country, the Port of Los Angeles and the Port of Long Beach. However, the state continues to lose market share to other competitors, a trend threatening the immense economic benefits and jobs created by trade operations.
The Center for International Trade and Transportation (CITT) partnered with the California Governor's Office of Business and Economic Development (GO-Biz), the California State Transportation Agency (CalSTA), and the Port of Long Beach to develop the California Supply Chain SUCCESS Initiative, a collaboration designed to take a solutions-based approach to supply chain issues. CITT deployed several strategies to guide stakeholders' approaches to discussing solutions, including a social media campaign and virtual workshop.
The social media campaign initiated a call for video submissions where participants were asked to contextualize the obstacles they faced in their specific field and were encouraged to suggest solutions, whether as an industry stakeholder, a government official concerned with trade issues, or a company facing disruptions from their supplier. Contributors included Mario Cordero from the Port of Long Beach, Gene Seroka from the Port of Los Angeles, Chris Cagle from the South Bay Workforce Investment Board (SBWIB), Jessica Alvarenga from the Pacific Merchant Shipping Association, Kristy Schiller from NFI Industries, and Harry Moser from the Reshoring Initiative. Some of the proposed solutions included improving supply chain digitalization, working with the Federal Maritime Commission on truck gate management, developing workforce training centers, increasing equipment and chassis, and investing in blockchain technology.
The virtual workshop held on September 1 had over 140 registrants and centered on four key issues within the supply chain: Supply Chain Visibility, the Role of Government, Responding to Changing Consumer Demand, and Efficiency of Intermodal Shipments. The participants were divided into small groups set as a "table." Each table had a moderator--a trusted supply chain leader. The table participants tackled one of the four discussion topics and answered questions about the current obstacles, short-term solutions, long-term solutions, and opportunities to pilot the proposed measures. Participants were able to contribute to a multitude of discussions, each producing a unique set of identified issues and potential solutions.
Each group contributed significant insights into their topic. One table addressing supply chain visibility, led by CITT Senior Industry Liaison Elizabeth Warren, noted the lack of data standardization, sharing, and access to proprietary data, which prevents informed decision making about how to efficiently route shipments. Similarly, CITT Research Assistant Brittany Cooper, a notetaker at a table moderated by Eno Center for Transportation's Chief Financial Officer and Policy Director Paul Lewis, called attention to a "consensus that West Coast supply chains desire government intervention to supplement existing industry efforts and maintain a competitive position against East Coast and foreign competitors. Additionally, a centralized hub of information would not only assist in the current pandemic-related disruptions, but also ensure a more informed industry."
After the event, participants expressed positive thoughts about future collaboration efforts. Chief Digital Officer Biju Kewalram, a moderator at the workshop, reflected on the event. He emphasized how "it's hard to come away from [the workshop] with anything other than an optimistic outlook because of the cross-section of stakeholders represented, the 'roll up your sleeves' approach to the conversations, and the sense of shared urgency." Building on the momentum of this urgency, an in-person summit of key decision-makers took place on September 21st to commit to actionable measures. The discussion guide written to help inform conversations about current issues will be released with an updated summary of both the workshop and summit outcomes. Part II of this series, detailing the Summit and discussion guide, will be released in November.
More CITT in the News
More Education and Training
More Research: Freight and Logistics
More Research: Workforce
More Trade & Transportation