CITT News
CITT, Go-Biz, PoLB, and CalSTA Lead Efforts to Combat Supply Chain Disruptions: Part II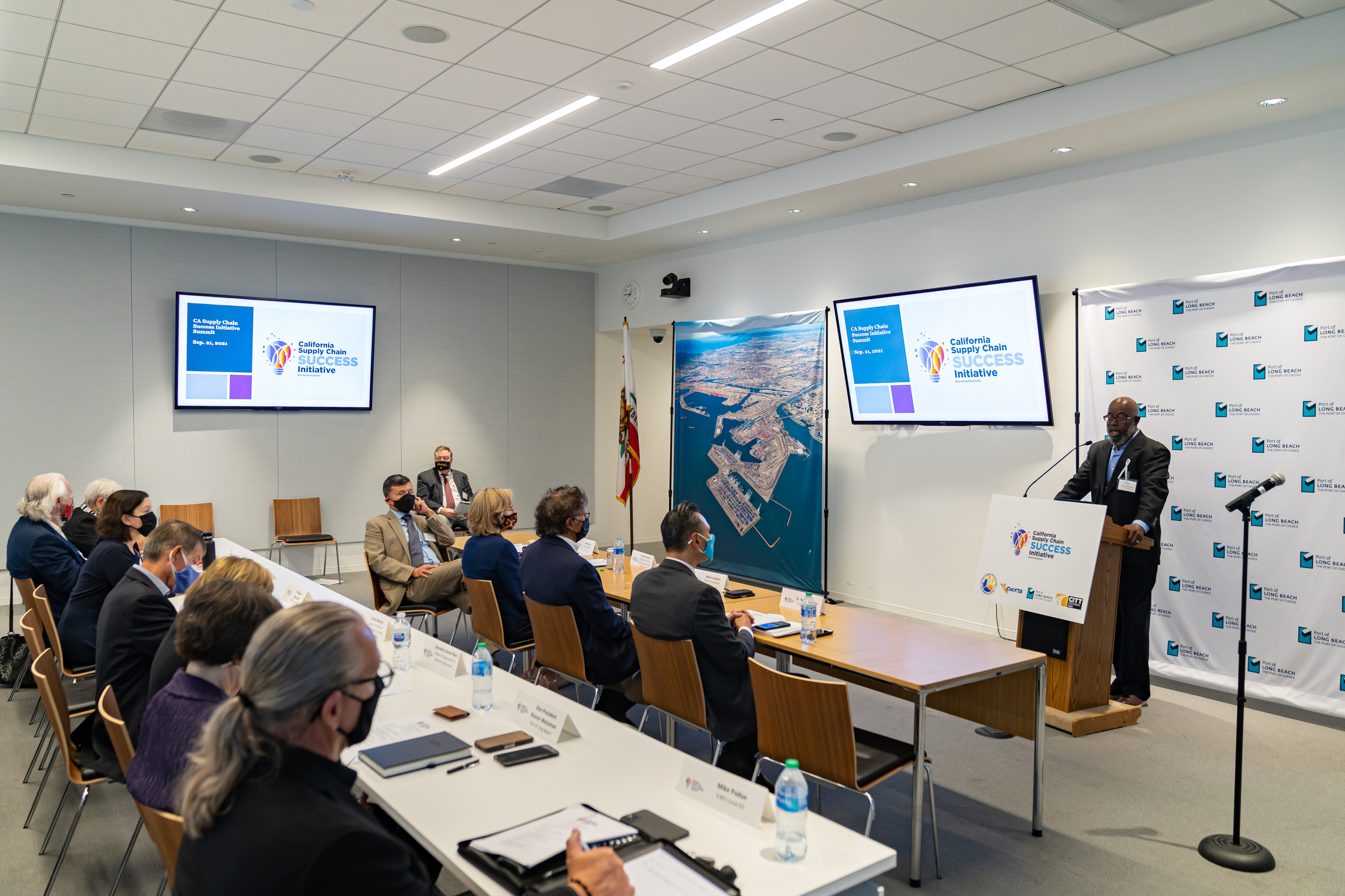 This article is Part II in a two-part series covering the California Supply Chain SUCCESS Initiative.
The Center for International Trade and Transportation partnered with the California Governor's Office of Business and Economic Development (GO-Biz), the California State Transportation Agency (CalSTA), and the Port of Long Beach to develop the California Supply Chain SUCCESS Initiative, a collaboration aiming to take a solutions-based approach to supply chain issues. CITT deployed several strategies to guide stakeholders' approach to discussing solutions, including a discussion guide and in-person summit comprising key decision makers.
The discussion guide, authored by Director of Research & Workforce Development Tyler Reeb, CITT Executive Director Tom O'Brien, Research Assistant Lena Kotanchyan, Research Assistant Georgie Suico, and Go-Biz Intern Michael Sonsini, covered the historical development of California's supply chain, the state's role in national and international goods movement, the interests of varying stakeholders, current obstacles to success, and key questions to frame the discussion of solutions. In order to ensure that workshop and summit participants were well-informed of supply chain issues from a variety of perspectives, the paper's primary goal was to inform, guide, and supplement ongoing collaboration amongst stakeholders. The document implored participants to consider several questions in their approach to solutions, including: how to define supply chain success, identifying ways for stakeholders to add value to the industry, determining what the obstacles were, and establishing/deciding an appropriate role for government.
Invitees were encouraged to approach the summit with collaboration and accountability in mind. Not only was the Initiative meant to provide a broader framework for dialogue, but also to emphasize the need for individual stakeholders to identify what they could do as independent actors to add value to the supply chain with or without government facilitation. However, considering the high levels of fragmentation within the supply chain and the increasingly strenuous public pressure to address these issues, the California and federal governments have taken a leadership role in coordinating industry efforts. A full report of the Initiative will be published in December.
The final component, a summit convening major supply chain decision makers, took place on September 21st with the goal of committing to realistic measures that address supply chain problems. The same themes (e.g. Supply Chain Visibility, Responding to Changing Consumer Demand, and Efficiency of Intermodal Shipments) from the initial workshop guided the discussion at the summit, which emphasized collaboration and the need for industries to take on individual measures to add value to the supply chain as a whole. The event began with an introduction from CITT Executive Director Tom O'Brien and representatives from the Initiative's co-sponsors, including California Governor's Office of Business and Economic Development Director and Senior Advisor to Governor Newsom DeeDee Myers, Port of Long Beach Executive Director Mario Cordero, Port of Long Beach Deputy Executive Director Noel Hacegaba, and representatives from the California State Transportation Agency. California Department of Food and Agriculture Secretary Karen Ross, Federal Maritime Commission Chairman Dan Maffei, MARAD Acting Administrator Lucinda Lessley, and Port Envoy to the Biden-Harris Administration Supply Chain Disruptions Taskforce John D. Porcari expanded on the goal of the initiative and what they hoped could be achieved through the event.
Considering the consensus of both the workshop and summit, several stakeholders took significant measures to pilot solutions. For instance, many industry stakeholders have since announced their plans to transition to nearly 24/7 operations. Building on the Initiative, California's Governor Newsom issued Executive Order N-19-21 which directs several agencies to identify non-state and state-owned properties near the ports for temporary storage, establish an industry panel to first convene in March 2022, expedite and give funding preference to supply chain issues, and develop long-term proposals to support goods movement. Lastly, the U.S. Department of Transportation (US-DOT) will partner with California to help the state modernize its supply chain.
As supply chain disruptions continue to be a major concern to California's competitiveness, collaboration is essential to ensuring its success. Although it may be tempting for self-interest to dominate the trajectory of the state's supply chain, cross-sector cooperation will help illuminate the unique problems in each sector and enable stakeholders to improve the system as a whole. In the systems of systems understanding of the supply chain, a rising tide lifts all boats.
More CITT in the News
More Education and Training
More Research: Freight and Logistics
More Research: Workforce
More Trade & Transportation