CPIE News
EMER Program Helps Grad Improve Midnight Shift at 911 Call Center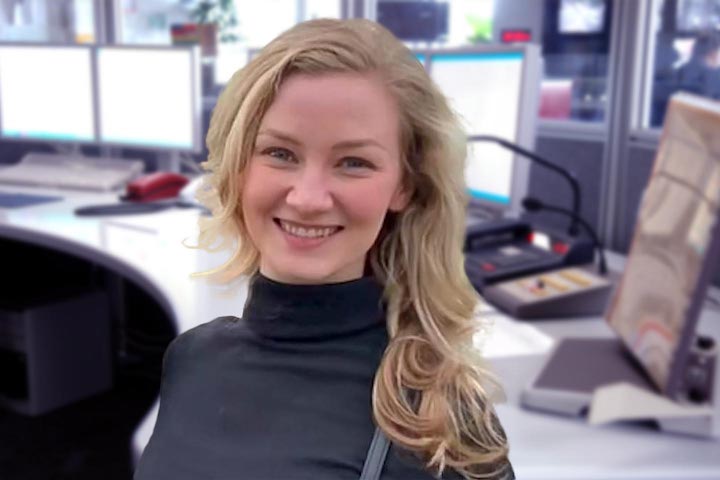 Working many hours on the midnight shift of a 911 call center, Morgan Turner knew the only way to earn her master's degree was to do it online. A family member's recommendation led her to CSULB's Master of Science in Emergency Services Administration program (EMER), which allowed her the flexibility to keep working full-time while finishing the program at her own pace in less than three years.
"The EMER program really taught me the fundamentals of emergency management," Morgan said. "It also taught me how to best balance and plan my time despite having multiple large commitments, and to know how to get things done efficiently when I have very little free time available. I knocked out my homework on my days off and during my frequent 3:00 a.m. downtime at work."
Already working in emergency management, Morgan was able to draw parallels from the EMER program to her job at the Watch Desk in Arlington County, Virginia. By evaluating the documents and procedures she used on a daily basis in a new context provided by the EMER program, she learned how to apply the academic knowledge directly to her job.
"One of my greatest frustrations was the frequent misuse of the 911 system, both intentionally and through carelessness," explained Morgan. "Our center was short-staffed, so while the misuse wasn't overwhelming, it was definitely a pain. We hadn't really evaluated problems we had with the newer capabilities we had—namely text-to-911. My thought was by looking at how the current system was misused, we could anticipate how newer ones would be misused and get ahead of the problem."
Analyzing this text-to-911 system became the focus of Morgan's EMER master's thesis. Through quantitative research and evaluation of 911 transcripts, Morgan soon discovered that the majority of misuse by the public stemmed from accidents, rather than malicious abuse or pranks. With help from her thesis committee—including EMER instructors Shirley Feldmann-Jensen, Steve Jensen, Peter Kreysa, and Brenda Vogel—Morgan was able to encourage potential policies to mitigate further misuse of the 911 system.
Morgan presented her research at the International Association of Emergency Managers (IAEM) 2020 Annual Conference, where she earned a Gold Award for "Analysis of Current Text-to-911 Systems Usage in the Northern Virginia Area." In addition to gaining attention from her academic colleagues at CSULB and other institutions in the same field, Morgan was also formally recognized in her workplace for her contributions.
When the COVID-19 pandemic hit in Spring 2020, Morgan was in her final semester, and her online EMER classes meant that her thesis project wasn't disrupted in any way. However, the call center in Arlington became overwhelmed with multiple simultaneous emergencies. By the time they had settled down somewhat, the riot at the nearby Capitol in January 2021 raised them back to a fully activated state of emergency.
"We will have very little time off in the near future, as I believe is the case for many local, state, and federal agencies in the upcoming days," said Morgan. "The last year or so has been extremely busy, but I can safely say that I have learned a lot and will be lucky to take that experience into my future career."
Having graduated from the EMER program in May 2020, and despite an extremely busy work schedule at the Watch Desk, Morgan has recently started another program at American Military University for a graduate certificate in Terrorism Studies.
"The EMER degree has absolutely opened a lot of doors for me in my career field," she said, "especially as it gave me the opportunity to get a graduate education while also getting full-time work experience in my field."
Click here to learn more about the EMER program at CSULB.
More Alumni Profiles
More Community Outreach
More Student Profiles